Treasurer of the Year
Campus Organizations Accounting (COA) appreciates all of the work that the 900+ student treasurers perform over the school year. Their job responsibilities include reconciling financial accounts, initiating requests and transactions through Workday, and keeping their organization apprised of budgetary balances.
On May 10th, we were pleased to award our Treasurer of the Year for the 2022-2023 school year. Macy Wiederin, a senior in Management, was selected in recognition for her service to Dance Marathon. The nominators in the COA office noted how Macy was always ahead of her tasks, prompt, quick to revise and reply, and wonderful to work with! Congratulations Macy!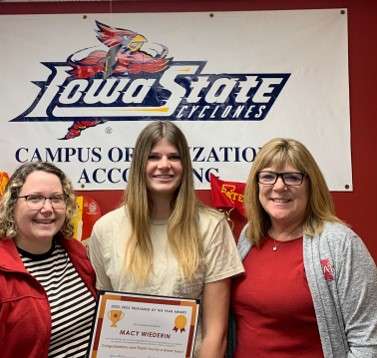 The COA Office would also like to recognize all the nominees for our Treasurer of the Year Award. Thank you your hard work and a great year!
 Kit Clayburn, Student Government
 Natalie Ecklund, Student American Veterinary Medical Association
 Andrew Guinn, Rugby Club (Men)
 Rachel Junck, Engineers' Week
 Madison McVey, Rugby Club (Women)
 Kaitlyn White, Collegiate Panhellenic Council
2021-2022

Anthony David - SAE International

2020-2021

Ma'Kaiyla Johnson - Black Student Alliance

2019-2020

Rui Ding - GPSS

2018-2019

Concong Peng - Chinese Students and Scholars

2017-2018

James Van Diest - IRHA